"She had two horizons in her eyes, a miniature view of the houses and the mountains of Mongibello in one eye, and in the other the beach with lots of little red characters."
Mr. Ripley, Patricia Highsmith
Winding, sun filled back streets to wander free of care, a picture postcard set against a blue, blue sea: this is Mongibello, the imaginary island that comes to life in Patricia Highsmith's novel "The Talented Mr Ripley". Played by Alain Delon in the film "Purple Noon", Tom Ripley fascinates us with his stylishly insolent elegance, particularly when wearing the blue and burgundy striped boating blazer.
Every item of Rivea swimwear represents 10 plastic bottles, removed from the sea and beaches of the Mediterranean and then recycled.
- Iconic prints inspired by the Riviera
- Slim fit
- Mid-thigh length
- Seaqual recycled fibre
- Two side pockets
- Back pocket with button made of rPET
- Elasticated waist
- Quick-dry fabric
All Rivea swim shorts come with a waterproof TPU pouch.
1 Swiss Franc will be donated to support the work of Oceaneye.
Your swim shorts have been lovingly made from top quality materials, so that they can accompany you on your aquatic adventures for a long time to come. This is how we recommend you take care of it:
- If your swim shorts need washing, we recommend a machine wash on a delicates cycle at 30°C, with items of a similar colour, using a gentle detergent.
- Remember that your swim shorts love water – rinse them in fresh water after every use and, whatever you do, never dry clean.
- Your swim shorts are allergic to two products: bleaching agents and bleach based stain removers.
- After washing or rinsing, allow to dry naturally rather than using a tumble dryer.
- Your swim shorts do not need ironing, but if you really must, iron on the reverse at a temperature of 110°C.
Standard delivery is free of charge for orders of 150CHF or more.
Orders received on a business day are dispatched within 48hours.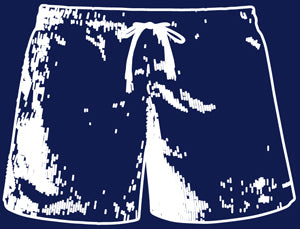 A Rivea swim short

Collected in the Mediterranean Sea and on the beaches


Waterproof, sustainable and biodegradable